Getting to Erice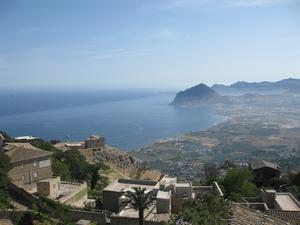 Flying to Erice
Erice is served by the airports of Palermo and Trapani. Participants must communicate their arrival/departure times and flight numbers in advance of their arrival. On the official arrival day, transportation from Palermo or Trapani airports to Erice will be provided by the Ettore Majorana Centre. Participants arriving these airports should look for the Ettore Majorana meeting point within the arrivals terminal where the Ettore Majorana Centre driver will be awaiting. Participants should register upon arrival at the Centre Secretariat (I.I. Rabi Institute). There will be no lectures on either the arrival or departure days of the Course. On the official departure day transport to both Palermo and Trapani airports will be provided by the Centre.
Driving to Erice
Driving to Erice from the main Italian cities (Rome, Milan or Naples which is connected to other European cities) can be a long trip. It can be a chance to tour Italy and Sicily, but it needs careful planning. Distances (driving the Autostrade network) are
Milan - Rome: 560km
Rome - Naples: 210km
Naples - Villa San Giovanni (ferry to Messina/Sicily): ~500km
Messina - Erice: ~300km
Parking in Erice
Cars are not allowed to enter the historical centre. You therefore must find a parking space outside the ancient walls of Erice. Paying at the cash machine could be expensive. However, at the parking lot located at "Porta Trapani" you can buy a 7 day permit (12€/week, 1 week minimum) but you must have a document certifying that during the given period you are attending a Workshop at the Ettore Majorana Centre. If needed the organizers will provide you with such a document. Also a photocopy of the vehicle certificate is required.
Getting to Erice by Train
You must take a train to Trapani. Erice is situated on the moutain overlooking Trapani. From Trapani take a taxi to Erice. Confirm the price before taking the taxi. You can view the train schedule here (set Trapani as your destination).